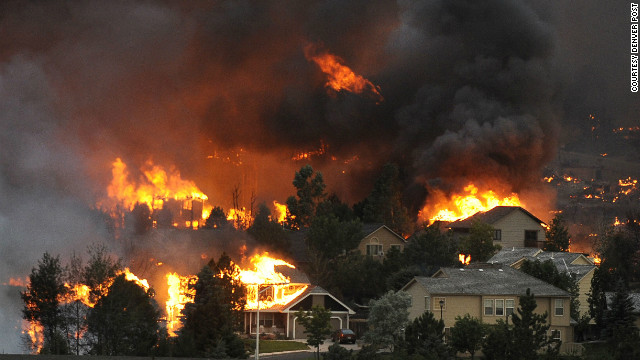 It's a banner day at Marc Valdez Weblog today, but for all the wrong reasons. In 2010, I posted information regarding a wild fire near Flagstaff, AZ, but today, frantic people are trying to get more information regarding the Flagstaff fire near Boulder, CO, and pulling up my old blog post by mistake. I have nothing to offer, but people frantically search anyway. According to the
Denver Post
:
The human desire to connect, whether by tweet, phone call or blog, plays out in an intense and public way during a disaster. While some share the terrible beauty of a fire-tinged sunset, others simply want to see a photo of what's left of their home.

"It's like we're in a circle of hell just waiting for a landing spot," said Amy Cosper from her parents' home in Evergreen. She and her husband, Mark Richtermeyer, were on a motorcycle trip in Santa Fe when the High Park fire started, so they had no chance to pack for evacuation.
Meanwhile, Colorado Springs is also seeing
big troubles
:
The family fled the Peregrine neighborhood in northwest Colorado Springs on a two-lane road that quickly turned into a parking lot. About 7,000 people were trying to get out the same way.

Sobecki said it took two hours to travel four miles. They found refuge at a friend's house on the east side of town, away from the fire.

Sobecki was born and raised in Colorado Springs and he'd seen fires before. But none like this. None that blazed into the city.

He thought about Colorado Gov. John Hickenlooper's words -- that it looked like nothing short of a full-scale military invasion.

"That is Colorado Springs, the city I was born and raised in, the city that is at war with nature," Sobecki said.